A centennial history of the Taupo Totara Timber Company
I had been fascinated for years by the Taupo Totara Timber Company's eclectic fleet of steam locomotives. The TTT ran a tiny picturesque American-built greyhound of a Mallet alongside four elegant slow hard-pulling Heislers.
That just did not make sense.
The Mallet would be right at home prancing across an open plain: the plodding Heislers would enjoy a more precipitous habitat.
The TTT Mallet was unique—railway historians seemed satisfied that it had been custom-built for the company, and they had also showed that there was nothing quite like it, anywhere in the world. Perhaps the TTT management were crazy? Or perhaps this weirdness pointed to engineering challenges that demanded truly creative solutions. If that were the case, the story would surely be packed with human drama in all its forms.
I had to find out, but it wasn't easy. The surviving records are scattered across dozens of museums and libraries, many of which impose prohibitive charges. Railway enthusiasts recounted legends that either didn't fit the facts, or couldn't be substantiated. Gaps in newspaper collections inconveniently coincided with critical parts of the story. But as they say, you eat an elephant one bite at a time. After plugging away at the story for several years, I finally had a clear picture of the TTT and its people. And what a wonderful story it was.
The story began in the late 1890s when Wellington entrepreneur Tudor Atkinson and Taupo chief Hitiri te Paerata forged a deal to establish a timber company to exploit the podocarp forests northwest of Taupo. They hoped the scheme would provide jobs and security for a group of small Maori sub-tribes or hapu based in what was then one of New Zealand's most inaccessible regions.
Here's what one reviewer said about Men of Pluck: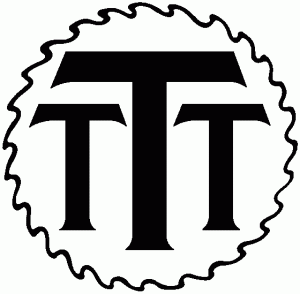 It is very much a story of large scale early timber industry pioneering under extreme conditions, succeeding against almost all odds and successfully making the transition to radiata pine in the 1950s – a remarkable achievement. TTT was one of the first large private companies to accept the enormous challenge of exploiting some of the finest podocarp forests in the North Island…
The building of the railway line, bridging of the Waikato river, trials and tribulations of its operation and the impact of it on farming is a fascinating story…
Tom Rogers, Rotorua, New Zealand.
Men of Pluck was published in 2001 and is available from the following retailers: